Fribourg Festivals and Events
CALENDAR OF FESTIVALS/EVENTS
January* Fête des Rois
February* Carnival link
Salons de Modeste CLICK HERE FOR MORE INFORMATION
Environmental Film Festival link
March* Fribourg International Film Festival
Carnival
April* Easter
May* Nature Festival
Museum Night-Fribourg: http://www.ndm-fribourg.ch/index.php/
Tzampata
Fribourg International Storytelling Festival
Fête des Voisins
June* Fète Dieu-Corpus Christi
Music Festival:http://www.fete-musique.ch
Belluard Bollwerk International (BBI)
July* Jazz Parade
Lieder Festival
August* Swiss National Day, August 1st
International Folklore Festival
September* BENICHON
Journée du Patrimoine (second weekend in September)
venezvisiter.ch Journées du patrimoine
October* Halloween
BENICHON
Morat-Fribourg Race
November* BENICHON
December* St Nicholas- procession to cathedral and annual satirical speech Christmas market
Salons de Modeste Fribourg in February
This is a special evening in Fribourg where you are invited to drop into somebody's home.
On the evening, prospective hosts agree to open their home to strangers.
Their addresses are published in the 'La Liberté' newspaper on the day.
laliberte-click here
you can also consult newspapers at the BCUF Library :click here
People go to 'their' (see LaLiberté) address from 7pm onwards where they meet with their host and other guests.
After 21.30 the host reveals the address of the location that brings all the 'Salons' together.
The local morning papers 'La Liberté' and probably also the 'Freiburger Nachrichten' will disclose on the morning of February 22 some 20 to 30 addresses.
Have a go and meet the locals.
La Fête des Voisins 31 May 2013
For the very first time Fribourg is putting on an event for getting to know your neighbours.
Help can be obtained for the organisation - advertising, invitations, food and drink etc.
FETE DES ROIS
This festival takes place either on the 6th January or on the following Sunday to celebrate Epithany.
You will see the special galette des rois displayed in the baker shop windows.
There are several recipes for these galette depending on which country you are in. The version found in Fribourg is a brioche type. In France and Belgium, you have a galette that contains more flaky pastry and cake mix and either filled with almond paste or apple purée etc. depending on the local custom.
All galettes, however, have a surprise feature. They are all made with a small statue fève hidden in them. The lucky person (or unlucky - if he/she swallows it) who finds the fève is made King or Queen of the day and is entitled to wear the golden crown which usually comes with the galette.
HAPPY FETE !
translated from: http://french.about.com/b/2012/01/02/la-galette-des-rois.htm
THE THREE KINGS PROCESSION - FRIBOURG OLD TOWN
05/01/2012
Le cortège de l'Epiphanie de retour
Basse-Ville
C'est vendredi soir, sur le coup des 18 h, que le cortège de l'Epiphanie entamera sa procession dans les rues de la Basse-Ville de Fribourg. Point de départ: la chapelle Saint-Beat, à l'entrée de la vallée du Gottéron. Les perturbations sur le trafic devraient être mineures, selon la police locale. Comme l'année passée, le préfet de la Sarine Carl-Alex Ridoré reprendra son rôle de Balthazar (photo), l'un des trois Rois mages. Au programme: cavaliers, chameaux, fifres et tambours, chants et crèche vivante sur le plateau de l'Oelberg, dans le Jardin Magique d'Hubert Audriaz.
Olivier Wys
source: La Liberté
CARNIVAL
CARNIVAL TIME IN FRIBOURG AROUND FEBRUARY 17-21
- a time for letting your hair down after the doom and gloom of winter !
Festivities in the OLD TOWN - CARNAVAL DES BOLZES
The highlight of the Carnival takes place on Sunday afternoon from 14:00 in the Old Town. After the noisy procession of strange floats, colourful bands and raining confetti, the celebrations turn to the trial of Rababou and the lighting of the gigantic fire - the ritual paganistic torching of the Grand Rababou effigy - bearer of winter and all evil. This takes place in the Petit-St-Jean Square.
SWISS NATIONAL DAY CELEBRATIONS, AUGUST 1st
-see information from communes for local celebrations on and around 1 August- fireworks - music - eating -dancing
LA FETE-DIEU
FETE-DIEU FRIBOURG THURSDAY JUNE 7
This is a very important event in the Swiss Catholic Cantons.
The Feast of Corpus Christi, which is a moveable feast, is celebrated on the Thursday after Trinity Sunday i.e. the 60th day following Easter.
At the end of the Mass, there is a huge procession of the Blessed Sacrament, followed by a Benediction of the Blessed Sacrament.
The procession starts around 10h30.
Route : rue Joseph-Piller, rue de l'Hôpital, place Georges-Python, Benediction of the Blessed Sacrament at the Old Post Office, route des Alpes, route du Pont-Muré, rue Saint-Nicolas, and finally ending up in front of the cathedral Saint Nicolas where prayers are conducted by the Bishop.
http://www.fete-dieu.ch/fr.html
FETE DE LA MUSIQUE
Le 21 juin, c'est la fête de l'été et de la musique! Laissez-vous surprendre par la variété des styles: classique, jazz, rock, pop, folk, danse... Plus de 50 groupes sur 9 scènes feront résonner la musique dans les rues, sur les places et dans des lieux insolites. Partage et découverte réuniront musiciens et public sur des rythmes d'ici et d'ailleurs. Affûtez vos oreilles et laissez-vous surprendre: il y en aura pour tous les goûts.http://www.fete-musique.ch/
FETE DE LA NATURE
Société fribourgeoise des sciences naturelles
T: 026 300 9161
Web: http://www.unifr.ch/sfsn
NATURE FESTIVAL
FETE DE LA SAINT NICHOLAS
Don't miss this important Fribourg happening which takes place on the nearest Saturday to December 6th each year, around 5-6pm.
more info: http://www.csmfr.ch/La-Vie-autour-de-l-ecole/St-Nicolas.aspx
http://www.fribourgtourisme.ch/en/navpage-EventsFR-FribEventsFR-178567.html
Saint Nicholas and company (includes a donkey and various bands) parade noisily down the Rue de Lausanne to the cheers of the crowd and showers of sweets. Saint Nicholas, on the cathedral balcony (without the donkey) then delivers a satirical speech in French and German, drawing on the year's political happenings (or mishappenings!) to the jeers, cheers or laughter of the dense crowd.
The evening is rounded off with a Christmas market where you can warm yourself up with spicey gluwein or other Christmas goodies.
Programme of the day:
from 5.30 am to 8 pm: Market, Place des Ormeaux + Place Notre-Dame
from 10 am: Market, College of St.Michael
St.Nicholas route, discovery route to learn about the legendary St.Nicholas.
- projection of film of St.Nicholas, bio chalet soup (soupe de chalet), donkey rides....
from 10 am to 4.30 pm: Les Rendez-Vous Musicaux de la St-Nicolas, Franciscan Church and Church of the College of St.Michael
5 pm: start of the Procession from the College of St.Michael to the Cathedral
International Folklore Festival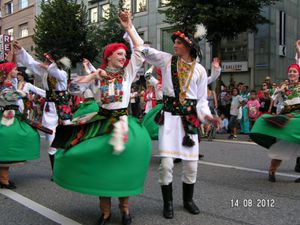 This is one of the major festivals in Fribourg.
It is a celebration of dancing, music and arts and crafts of various countries with mostly paying concerts.
There is one free, public event, however in Place Georges-Python on Saturday August 18th.
Two street processions are mentioned in the news but the time and place have not been announced. Traditionally, there is an opening procession that goes along Bld de Pérolles on the opening day of the festival in the late afternoon i.e. Tuesday.
Programme
Tuesday, August 14, 2012 :
Opening Performance (20h00 – Halle Ste-Croix – Fribourg)
Thursday, August 16, 2012 :
Gala Performance (20h00 – Equilibre – Fribourg)
Friday, August 17, 2012 :
Gala Performance (20h00 – Equilibre – Fribourg)
Saturday, August 18, 2012 :
All the groups (Village des Nations – Pl. Georges-Python – Fribourg)
Sunday, August 19, 2012 :
Closing Performance (16h00 – Halle Ste-Croix – Fribourg)
more information here: http://www.rfi.ch/en/the-festival/
BENICHON
http://www.myswitzerland.com/en/offer-About_GourmetTravel-Restaurants-17575.html
Bénichon is the name of the event celebrating the return of cowherds to the flat lowlands after more than 4 months in the alpine pastures.
Typical food to mark the celebration includes cabbage soup, ham, leg of lamb, double cream and meringues. Don't miss your chance to come and try the typical Bénichon food in one of the villages around Gruyère.
Benichon takes place in Bulle over the second week in September and in the villages over the second week in October.
A RECIPE
source:
http://www.downonthefarm.co.uk/page.php?p=recipes2
Swiss Style Terrick Lamb
Serves 4
Ingredients:
Shoulder of Terrick Lamb
½ pint red wine
4oz raisins
thyme
Quantity of mushrooms
1 onion
1 pint beef stock with a few gravy granules thrown in
3 lamb stock cubes
Method:
* Place the shoulder of Terrick Lamb in a large casserole dish. Pour the red wine over and sprinkle with raisins and thyme. Cover and leave to marinate overnight in fridge.
* Heat oven to 220oC for 10 minutes, then turn down to 150oC and put casserole dish into oven for 3½ hours.
* Check occasionally and turn joint if desired.
* One hour before the end of cooking add mushrooms and onion.
* Half an hour before end of cooking add the beef stock, with three lamb stock cubes added.
Serve with whole steamed pears (one for each person), baby courgettes and
mashed root vegetables (parsnips, carrots, sweet potato).
This recipe is based on Fribourg Benichon Lamb, a Swiss dish served during the great Thanksgiving festival of Benichon (blessing) at the end of the summer in the Canton of Fribourgh. We came across it during our family holiday in the beautiful country of Switzerland in the summer of 2006 and adapted the recipe to create our own version.
HISTORY
source:
http://www.benichon-lng.ch/labenichon.htm
DATES
District de la Sarine
Ville de Fribourg Bénichon de la Plaine, 2e dimanche de septembre et le lundi suivant
District de la Singine
Düdingen 2e dimanche novembre
Bad Bonn 2e dimanche août
Giffers 2e dimanche octobre
Plaffeien 2e dimanche octobre
Schwarzsee 4e dimanche juillet
Zollhaus 4e dimanche juillet
Plasselb 2e d
Schmitten 2e dimanche novembre
St-Antoni 2e dimanche octobre
St-Silvester 31 décembre
St-Ursen 2e dimanche septembre
Tafers 2e dimanche novembre
Tentlingen 2e dimanche octobre
Ueberstorf 2e dimanche novembre
Flamatt 2e dimanche septembre
Schmitten 2e dimanche novembre
District de la Guryère Bénichon de la Montagne, 2e dimanche d'octobre et le lundi suivant.
Allières 3e dimanche juillet
Bulle 2e dimanche septembre
District du Lac
Cordast 1er dimanche octobre
Chavannes-les-Forts 1er dimanche mai
La Joux 1er dimanche août